Auto Body Shop
St. Charles
Excel Auto Body is your one-stop shop for auto collision repairs, paintless dent repair, windshield repair, hail damage repairs, and all your auto body needs.
Excel Auto Body St. Charles
We value our clients and offer a personal, professional service.
Our 7,000 square foot building has everything needed to return your car to factory specifications.
It can be stressful to deal with a car accident. There are many things to take care of, including insurance claims and auto body repairs. The experts at Excel Auto Body can take the stress out of your life. We are committed to our customers and will make sure your vehicle is back on the road as soon as possible. Get in touch with our team to discuss your collision repairs. 
You can rest assured that our work is guaranteed and that our customer service is our greatest asset. Find out how we can help you get your vehicle back on the road.
SO impressed with this place! They were efficient, friendly, kept me in the loop and did AWESOME work! My car looked perfect when I picked up! Hopefully I won't have to come back, but if I ever have something happen to my car, I will absolutely return!
Friendly faces. Fast, easy inspection of my car damages. Scheduled repairs. Reduced my worries of what's next. Highly recommended.
Get the repair process started
We understand that accidents can be stressful and frustrating.
To ensure that every repair is completed efficiently and with the highest quality, we have refined our collision repair process. We make it as simple as possible to repair your vehicle and handle all the communication with your insurance company. We offer free estimates, provide every customer with step-by-step communication, on-time delivery, and a limited warranty. Our goal is to get you back on the road safely and allow you to focus on the important things in your life.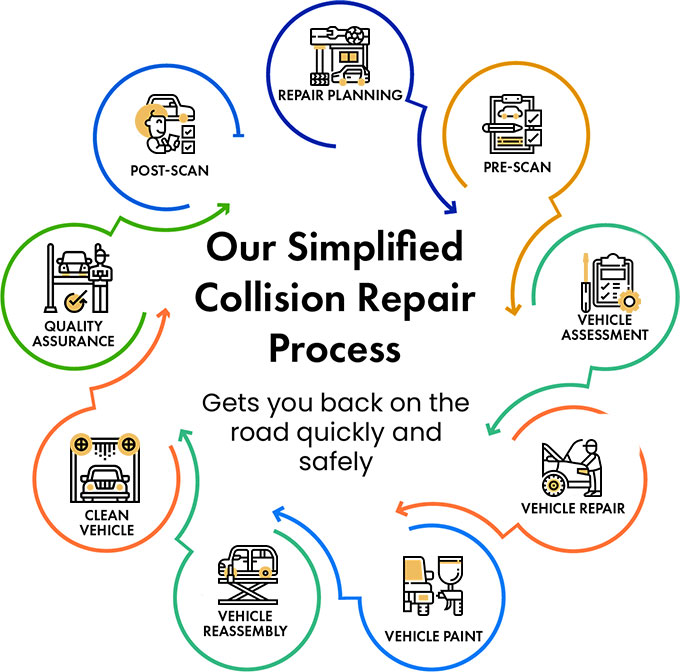 Excel did excellent work on my car when I was involved in an accident. My car was not drivable and they got me in right away. The girls in the office helped with my car rental. Tom and Pete as well as the girls in the office went above and beyond with any questions or concerns I had. Can't thank everyone at Excel Auto Body enough. Highly recommend them. Marilyn Milonas
Excellent work! Somebody stole my car and it was crash and vandalized. I was really worried about it but Excel Auto Body left my car like new. I am so happy now, thank you guys Also their customer service was amazing ✨
First off.. I wanted to leave a review after I got off the phone with them. On top of it being an actual human I spoke to. Had a broken passenger window and they really made it a quick, empathetic and pleasant plus very professional experience. The last few places like this that do exist give me strength as an American. The values here are impeccable. It's hard to find above and beyond, 110% service but here I am reviewing.
Excel Auto Body was great to work with. Very friendly staff and would highly recommend! Work was professional and done in a timely manner!
Couldn't have asked for a better repair job. They went above and beyond what I had expected them to do. Definitely would refer anyone to go there and get work done.
I'm so happy I found Excel Auto body to repair my sunroof, they did a amazing job. Very nice people and super fast on the repairs. Plus they wash my jeep very thankful for that I Definitely recommend them for any body repairs anybody needs. Thank you 😊
Great communication as they regularly called to give updates. They also did a great job working with me to replace the mirror right away so my daughter could drive the car while we waited for other parts. While I hope to not need their services again, I will certainly choose Excel if I ever do!
I just had my 2nd experience with Excel Autobody today. They are extremely friendly, fast, very helpful & so professional. Their work is top notch, my car looks like new! They are super working with Enterprise & quick to get you a ride asap when you drop off your car. I hope I won't need them again but, I will definitely use them if needed. I highly recommend them!
They are great here! I used them for the first time and they did such a great job! Everyone there was super friendly. I really appreciated the car detail and extra tips and tricks on keeping my car well maintained. Only complaint was I really wish they would've called me even just the night before my car was ready rather than the day of on a Friday. I had to scramble around last minute and miss work to ensure I had a car for the weekend.